Gunakan Server Lainnya Jika Server 1 Error, Atau Refresh Browsernya. Pastikan menggunakan browser Chrome Terupdate!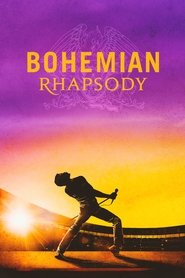 Bohemian Rhapsody (2018)
Bohemian Rhapsody, film yang mengisahkan perjalanan karir band legendaris Queen selama 15 tahun pertama dalam berkarir tayang di Indonesia hari ini, Rabu (31/10/2018). Film bergenre biografi dan drama musikal ini ditulis oleh Anthony McCarten dan disutradari Bryan Singer.
Sebagaimana ditulis The Sun, film ini mengambil judul dari salah satu lagu Queen yang ditulis oleh Freddie Mercury untuk album A Night at the Opera (1975) yang berjudul Bohemian Rhapsody yang rilis tanggal 31 Oktober 1975. Lagu yang memiliki durasi enam menit ini di dalamnya terdapat beberapa chorus, intro segmen ballad, sebagian opera, sebagian rock, dan code reflektif.
Pada trailernya, terdapat mash up lagu-lagu ikonik yang dimiliki Queen seperti Killer Queen, We Will Rock You, dan tentunya lagu Bohemian Rhapsody. Dalam trailer juga terdapat potongan scene di mana pihak label mengkritik durasi lagu Bohemian Rhapsody yang terlalu panjang pada masanya. Namun siapa sangka justru lagu ini menjadikan everlasting song dari Queen.

The Hollywood Reporter menulis film ini akan menyajikan perjalanan karir grup band Queen yang terdiri dari Freddie Mercury (diperankan Rami Malek) sebagai vokalis, Roger Taylor (diperankan Ben Hardy) sebagai drummer, Brian May (diperankan Gwilym Lee) sebagai gitaris, dan John Deacon (diperankan Joseph Mazzello) sebagai bassis. Film juga akan menceritakan kisah pertemuan mereka, hingga persahabatan yang terjalin saat berada di grup tersebut.
Bohemian Rhapsody juga menceritakan karir Queen hingga mereka bisa tampil bersama di Live Aid pada tahun 1985, walau awalnya Freddie pernah meninggalkan Queen untuk mengejar karier solonya sendiri. Penampilan tersebut merupakan enam tahun sebelum akhirnya Freddie meninggal karena didiagnosa AIDS.
Selain pemeran band Queen, film ini juga dibintangi oleh Paul Prenter dan Mary Austin. Film ini telah tayang dengan jadwal midnight pada tanggal 27 Oktober 2018 di Indonesia, dan secara serentak tayang pada tanggal 31 Oktober 2018 di bioskop tanah air.
Duration: 134 min
Quality: HD ▶
Release: 2018